2021 Spring Gala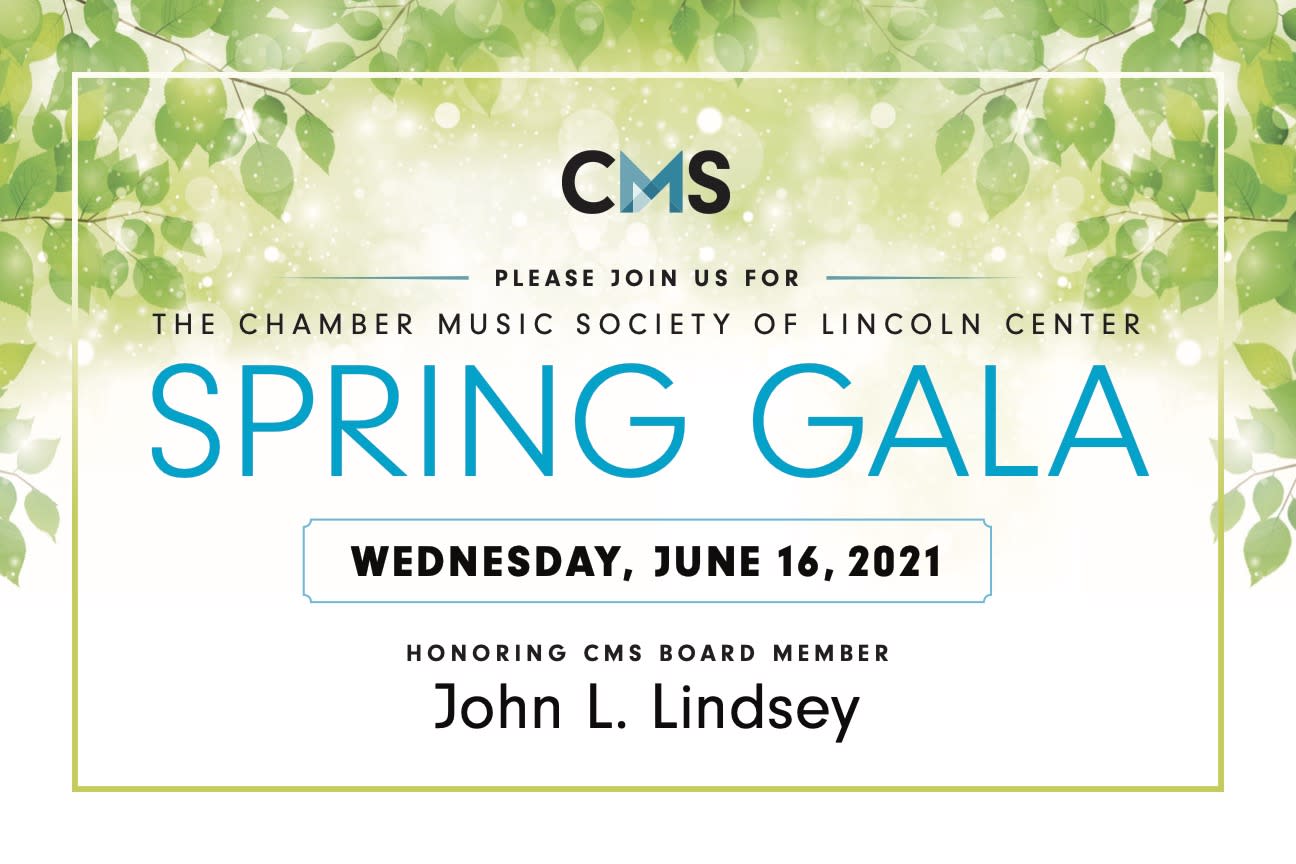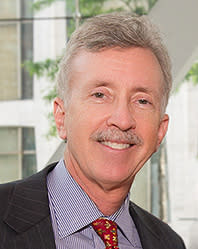 Honoring CMS Board Member John L. Lindsey

for his inspiring philanthropy and civic leadership supporting the arts and education

Celebrate CMS, our Honoree John L. Lindsey, and join us for a wonderful step forward toward the return of live performance. Enjoy a socially distanced champagne reception and in-person concert on the Lincoln Center campus (weather permitting). If you prefer, you can join the festivities from the comfort of your home via livestream. Donors may opt in to receive a catered meal by NYC's top chefs or a special gift box delivered to your home.
Proceeds from the Gala will in part support the extraordinary initiatives CMS achieved this season in the midst of the pandemic. To connect with our loyal and new audiences while our halls are closed, CMS produced an array of resources including digital concert series featuring archival recordings along with newly recorded performances, thought-provoking lectures with CMS artists, new interviews with leading composers, lively music tutorials for children, and much more. We are pleased to engage 182 CMS artists with our extensive new programming and reimbursements for canceled concerts. Looking ahead, CMS will build off this momentum to produce a one-of-a-kind season in 2021-2022, returning to our signature programming, to the extent possible, while advancing some of the most successful initiatives from this year.

We look forward to welcoming you!!

DAMROSCH PARK
West 62nd Street and Amsterdam Avenue
The champagne reception and concert are planned for outdoors. Should it be inclement weather we will connect with you online.
Cocktail Attire or Garden Party
6:00 PM Champagne Reception
6:30 PM Concert

PERFORMANCE
Alessio Bax, Lucille Chung, PIANO
Arnaud Sussmann, James Thompson, VIOLIN
Paul Neubauer, VIOLA
Sihao He, CELLO

JOHANNES BRAHMS Select Hungarian Dances for Piano, Four Hands (1868, 1880)
ROBERT SCHUMANN Quintet in E-flat major for Piano, Two Violins, Viola, and Cello, Op. 44 (1842)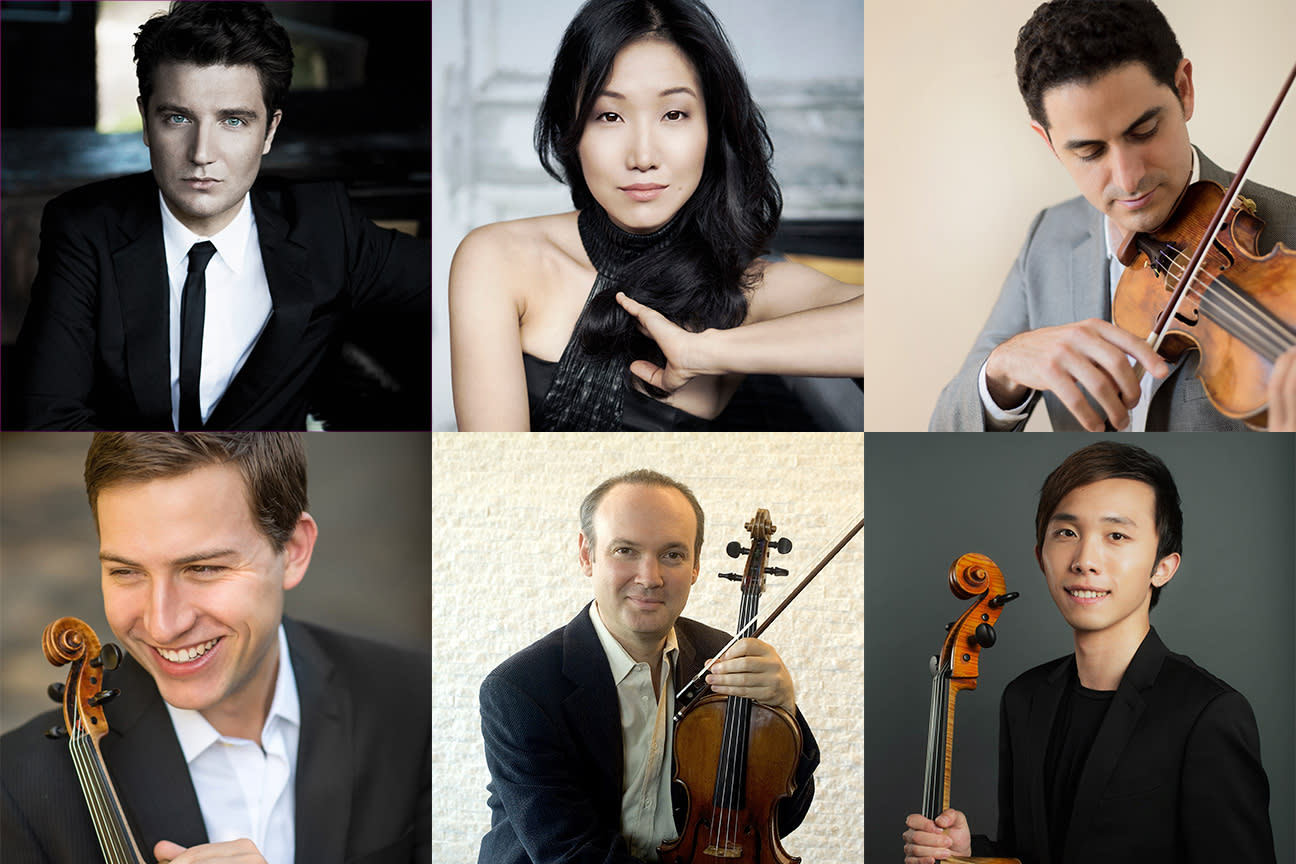 Purchase Tickets Here


$100,000 CHAIR

$95,000 contribution

Includes 20 Premium tickets for the concert and special celebration in Damrosch Park

Verbal acknowledgment during program

Underwriter listing in the event materials
Opportunity to host CMS artists for an exclusive performance in a private setting

Link to Livestream

$50,000 VICE CHAIR

$45,000 contribution

Includes 20 Sponsor tickets for the concert and special celebration in Damrosch Park

Written acknowledgment during program

Premium listing in the event materials

Link to Livestream

$25,000 PLATINUM

$22,500 contribution

Includes 10 Prime tickets for the concert and special celebration in Damrosch Park

Link to Livestream

$15,000 GOLD

$13,000 contribution

Includes 8 Priority tickets for the concert and special celebration in Damrosch Park

Link to Livestream

$2,000 SILVER

$1,750 contribution

Includes 1 Priority ticket for the concert and special celebration in Damrosch Park

Link to Livestream

$1,250 BRONZE

$1,000 contribution

Includes 1 ticket for the concert and special celebration in Damrosch Park

Link to Livestream

RSVP by June 1st. Gifts of $1,000 and up will be listed in the Evening Program and recieve a link to the livestream.
Donate Here
CHECKS
Made payable to Chamber Music Society
Mail to:
Chamber Music Society of Lincoln Center
70 Lincoln Center Plaza, 10th Floor
New York, NY 10023-6582
PAY BY CREDIT CARD VIA PHONE
Call 212-875-5216
WITH DEEP APPRECIATION

THE CHAMBER MUSIC SOCIETY THANKS OUR GENEROUS DONORS
VICE-CHAIR
Elinor and Andrew Hoover
James and Melissa O'Shaughnessy

PLATINUM
Sally and Stephen Clement
Joyce B. Cowin
Tony and Judy Evnin
Mrs. Phyllis Grann
Robert and Suzanne Hoglund
Jane and Peter Keegan
Marsha and Henry Laufer
Jay and Julie Lindsey
Alan and Elaine Weiler

GOLD
American Express
Beth and Jeffrey Cohen
Joseph M. Cohen
Linda S. Daines
Judi Sorensen Flom
Jennnifer and Johnson Garrett
William and Inger G. Ginsberg
Paul and Linda Gridley
Walter and Gail Harris
Priscilla F. Kauff
Vicki and Chris Kellogg
Suzie and Bruce Kovner
Richard Prins and Connie Steensma
Herbert and Judith Schlosser
Charles S. Schreger
Pearl F. Staller
Suzanne E. Vaucher and William R. Stensrud
Susan S. and Kenneth L. Wallach
Earl D. Weiner
Kathe and Edwin Williamson

SILVER
Nasrin Abdolali Jim Attwood and Leslie Williams
Enid L. Beal and Alan Wolfe
Jonathan Brezin and Linda Keen
Lisa and David Carnoy
Howard Dillon and Nell Dillon-Ermers
Stephen and Helen Freidus
Galena - Yorktown Foundation
Philip and Alexandra Howard
Kenneth Johnson and Julia Tobey
Harry Kamen and Family
Richard and Mary Beth Ketchum
Frederick and Ivy Kushner
Helen Brown Levine
Jennifer Manocherian
Jennifer Myerberg
Barbara A. Pelson
Richard J. Reiss Jr.
Drs. Alfred Z. Spector and Rhonda G. Kost
Shining Sung
Leo J. Tick
Gary L. Wasserman and Charles A. Kashner
Gro V. and Jeffrey S. Wood

BRONZE
Caryl H. Baron
Marshall and Nathalie Cox
Helen W. DuBois
Freudenberg Arts Foundation
Frederick L. Jacobson
N. Scott Johnson
Sally Wardwell
Paul and Judy Weislogel
Neil Westreich

SUPPORTER
Anonymous
Jordan Agee and Matthew Reeg
Yvette Bendahan
William Bolton
Emita Hill
Mark Joy
Brian Lei
Cynthia Lilley
Lucy Lu and Mark Franks
Solomon Mikowsky
Drew Poffel
Gary So and Sooyun Kim
Jonathan Wang
Nick Williams and Maria Doerfler

SPECIAL THANKS
Francis Goelet and the Goelet Family
DINING PARTNERS