Schubert: Quintet in A major for Piano, Violin, Viola, Cello, and Bass, D. 667, Op. 114, "Trout"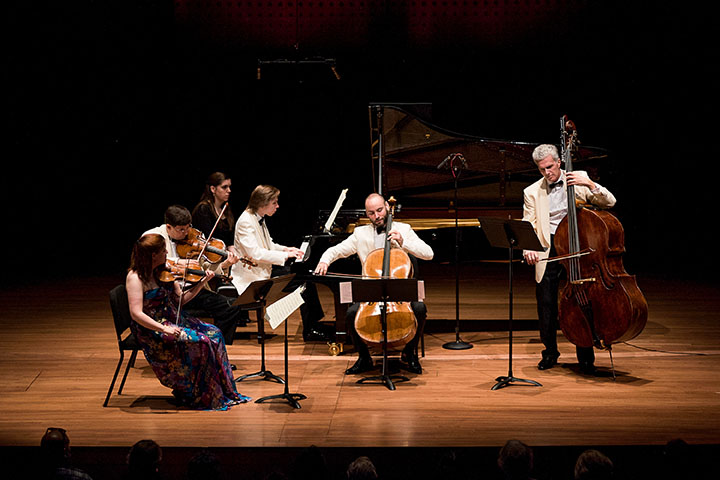 Watch the Work Here
Visit the Full Playlist Here
UNDERSTAND
In the accompanying Inside Chamber Music lecture for this work, Bruce Adolphe discussuses how Schubert uses the arpeggiated "trout" motive heard in the strings at 25:42 throughout the composition. Identify other moments in the work where you hear this similar idea.
ANALYZE
Analyze the original song upon which movement four of this work is based, Die Forelle (or "The Trout"). Why was Schubert interested in this text? Why did he omit the last verse of the original poem by Schubart in his art song setting?
EVALUATE
Critique the difference between sound of the quintet instrumentation of this work as compared to that of the piano quintet which was later developed by the composer Robert Schumann.
CREATE
Sing along to "Dir Forelle" (or "The Trout") while listening to the beginning of movement 4 starting at 24:30 and share the recording with your classmates in an online forum.
ENTIENDE
En la conferencia Inside Chamber Music acompañante, Bruce Adolphe discute cómo Schubert utiliza el motivo apregiado "la trucha" que se escucha en las cuerdas en 25:42 a través de toda la obra. Identifica otros momentos en la obra en que esuches esta idea.
ANALIZA
Analiza la canción en la que está basada esta obra, Die Forelle (o "La trucha"). ¿Por qué crees que Schubert estaba interesado en el texto? ¿Por qué omite el último verso del poema original de Schubrt?
EVALÚA
Critica la diferencia entre el sonido producido por la instrumentación de esta pieza en comparación con aquel del quinteto con piano, que fue desarollado por el compositor Robert Schumann.
CREA
Canta junto a "Dir Forelle" (o "La Trucha") (link here), mientras escuchas el principio del cuarto movimiento empezando en 24:30 y comparte la grabación con tus compañeros de clase.