Beethoven: Trio in B-flat major for Piano, Violin, and Cello, Op. 97, "Archduke"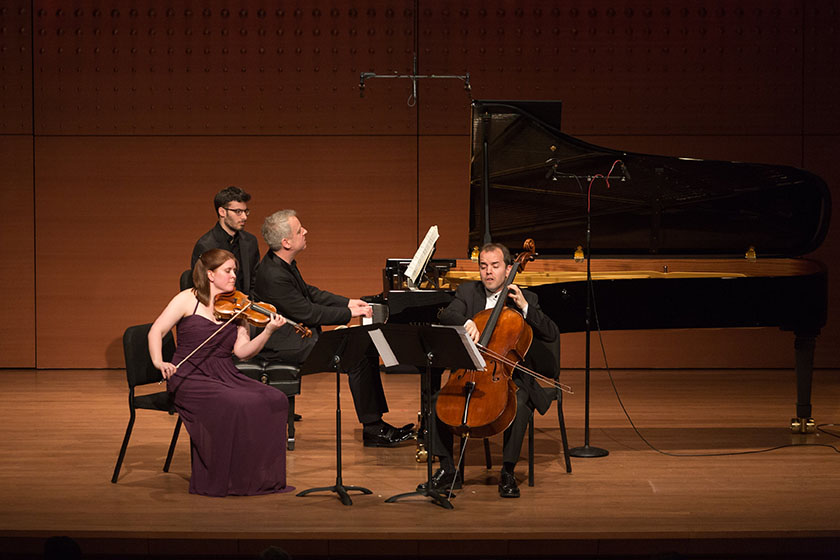 Watch the Work Here
Visit the Full Playlist Here
UNDERSTAND
This ensemble includes piano, violin, and cello. What is the name of this type of ensemble?
ANALYZE
This work was dedicated to the Archduke Rudolph of Austria, a friend and composition student of Beethoven. Compare this work to Brahms Horn Trio, focusing on how each conveys the theme of friendship.
EVALUATE
Evaluate the effectiveness of musical techniques used in this work to convey the theme of friendship.
CREATE
Imagine you are a friend of Beethoven. Build your own playlist of works from the CMS archive based on what you know of Beethoven.
ENTIENDE
Este ensamble incluye piano, violín, viola y cello. ¿Cómo se le llama a este tipo de ensamble?
ANALIZA
Esta obra fue dedicada al Archiduque Rodolfo de Habsburgo, amigo y estudiante de Beethoven. Compara esta obra con el Trio para trompa de Brahms, enfocándote en cómo transmiten el tema de la amistad.
EVALÚA
Evalúa qué tan efectivamente se logra transmitir el tema de la amistad a través de esta música.
CREA
Imagina que eres amigo o amiga de Beethoven. Usando videos del archivo de CMS crea tu propia lista de reproducción basada en lo que sabes sobre la vida del compositor.