News
Eight Musicians Chosen for CMS Two Residency
Posted on:
March 30, 2017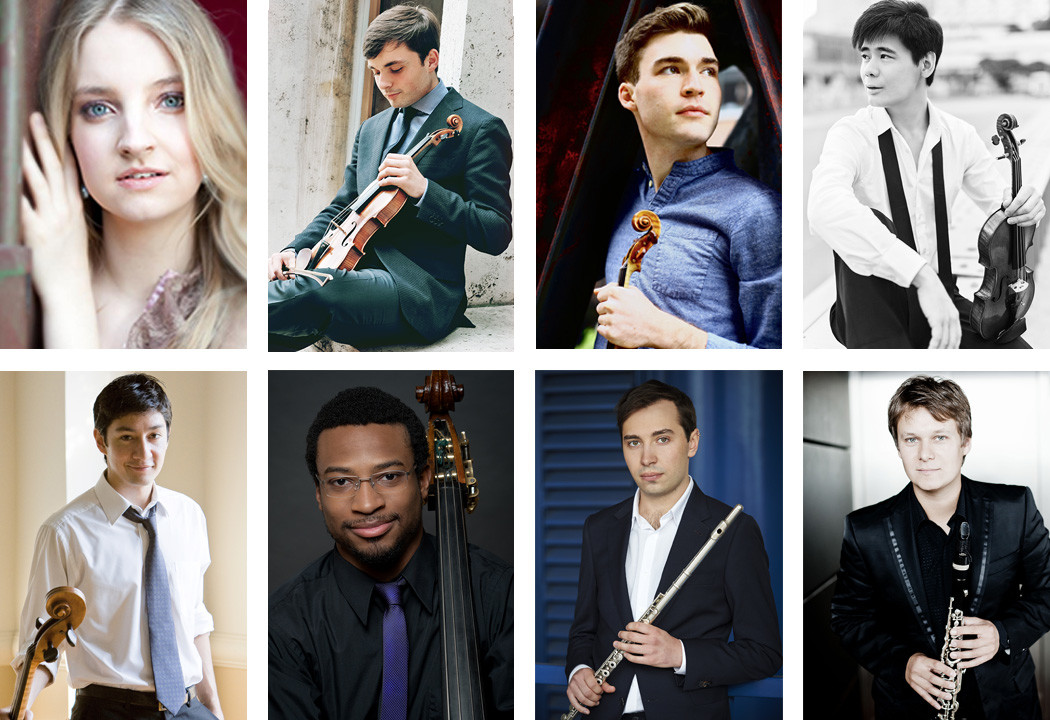 The Chamber Music Society is pleased to announce the appointment of eight outstanding young artists to its prestigious CMS Two program beginning with the 2018-2019 season. They are (as pictured above) pianist Lise de la Salle; violinists Francisco Fullana, Alexi Kenney, and Angelo Xiang Yu; cellist David Requiro; bassist Xavier Foley; flutist Adam Walker; and clarinetist Sebastian Manz. Chosen from an international pool of applicants by a distinguished panel of performers, educators, and artistic administrators headed by Artistic Directors David Finckel and Wu Han, each is an award-winning performer with exceptional musical training and a significant career.
Appointment to the three-year CMS Two residency program affords the young artists three full seasons of extraordinary opportunities to participate in every facet of CMS.
CMS Artistic Directors David Finckel and Wu Han commented on the selection:


The astoundingly high level of this year's applicants leaves no doubt that CMS Two is the ultimate program for young chamber musicians of today. It has also become the primary source for the evolving family of CMS performers. The experience of a CMS Two artist combines absorbing traditions with raising the standards of performance ever higher, all the while becoming a passionate, committed advocate for the art form. We are thrilled to welcome these eight extraordinary new artists into our midst.